On this page you can find a map and GPS information of the Carveacre Road Trail recorded during San Diego Four Wheelers 4th Annual "Pancake on the Rock" event on Saturday, May 20, 2000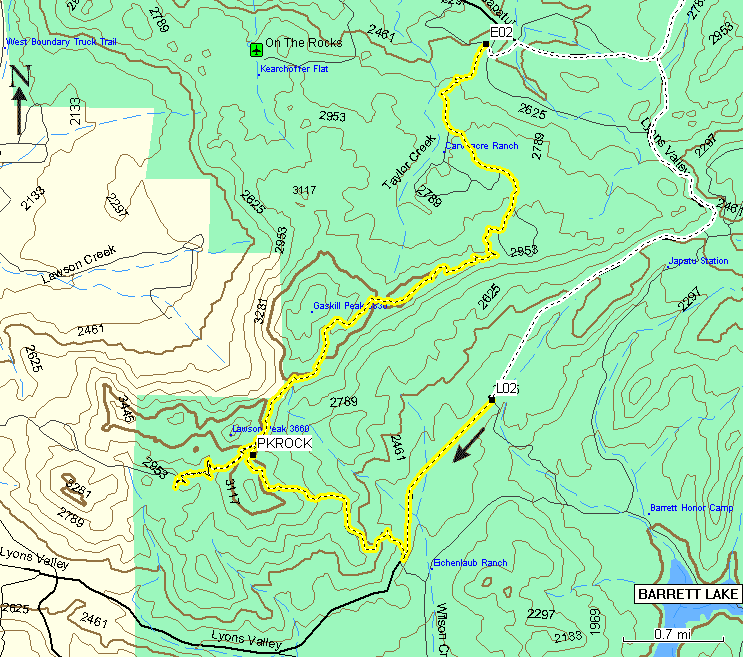 Map Legend and GPS information

Yellow with black dashes line represents the main trail of the run. Length of this trail is 10 miles. The beginning of the trail and ending of the trail are the Air-Down and Air-Up lots. The "appendix" part west form the Pancake Rock is an optional closed part of the run that offers opportunity of body damage. This part features it's own Jeep Squeeze and ends with a very nice "Playing on the rocks" area.
LO2
The air-down lot on the left side of the road. (

N32.72973 W116.69496

) This is a convenient place to prepare vehicles for the run and assemble in groups. Groups of five vehicles are recommended to departure from the lot and proceed to leave the paved road (at

N32.71375 W116.70561

) so that not to block usual traffic.
PKROCK
The Pancake Rock (

N32.72416 W116.72379

) This is where we had the pancakes. Delicious.
Try not to flip while leaving the rock. A Scrambler in the group did just that and ended up on its right side. Two humans and one dog in the Scrambler were unharmed. A little reminder of importance keeping hands and heads inside the vehicle! Some winch action put the truck back on all four and it left the site on its own power.
E02
The air-up lot. (

N32.76574 W116.69575

) Also known as "Mail Boxes". Here you can pump your tires up, reconnect sway bar links (I have a pair of JKS Quicker Disconnects in the mail :) and head home. In this area you are going to drive a dirt-road between horse-owners' ranches. Try to keep your speed down and do not create clouds of dust. I heard on CB (Channel 4 was used) that there was a case where a horse-rider or a horse was killed by a vehicle.

My Stock '99 TJ Sahara with 30' Tire group and Trac-Lok on the back made through all parts of the trail just fine. If I was paying a little bit more attention I could avoid a couple of scratches on the gas-tank and a little "kiss" on the left-rear fender. The trail was bushy, I got the rubber boot teared on the driver side mirror. Also wach out for caterpillars falling into your cabin. ;-)

Big thank you to Dorys for inviting me an my brother to this run. We had a great time!
Directions: from San Diego, Take Interstate 8 East, proceed to Japatul Valley Rd / Hwy. 79 Exit (N32.82964 W116.62743), Turn right on Japatul Valley Rd, drive 5.5 Miles and make left turn on Lyons Valley Rd (N32.76441 W116.67541) the Air-Down lot (LO2) is going to be 3.5 Miles down this road on the left.
Here is some original info about this run posted on sd4wheel page:
---
Saturday, May 20, 2000
Carveacre Road
4th Annual "Pancake on the Rock" Run
It's time again for the 4th annual Carveacre "Pancake on the Rocks" run. Come enjoy Fredy's fabulous flapjacks overlooking a spectacular view. This year Fredy will have have help flipping flapjacks by none other than Ed "Banana Man" Webster.
This is a green run to the top of Pancake Rock. Mother nature is doing us a favor and making the road quite challenging for stock and/or novice drivers. But don't fret, we'll help you get through the tough parts. After breakfast the group will split up for those that want to continue on to the "red" part of the run through mini Jeep Squeeze.
We will require a body lift and at least 1 locker (or no fear of body damage) to continue on the red portion. The rest will be led out by Jim "Big Red" Cowling. For a fun review of a past year's Pancake Run see our Photo Essay section.
Directions:
We are meeting at the 7-11 at Lake Jennings Road exit off of Interstate 8, just east of El Cajon (about 20 miles east of San Diego). We are LEAVING at 8:00 am so get there early. We will be getting back on the freeway to the Japutul exit. We expect the run to be finished before 3pm but bring plenty of water and munchies just in case. Please contact Dorys or Dave at [censored] for further questions.


---