July 1, 2000 Corral Canyon Run
Saturday, was a wonderful day for off-road activities. It was my second trip to the Corral Canyon Open ORV Area. The caravan consisted off one Jeep vehicle, one driver (me) and two passengers (my bro and my mom). We have explored 23.7 miles of scenic roads. Here is the map: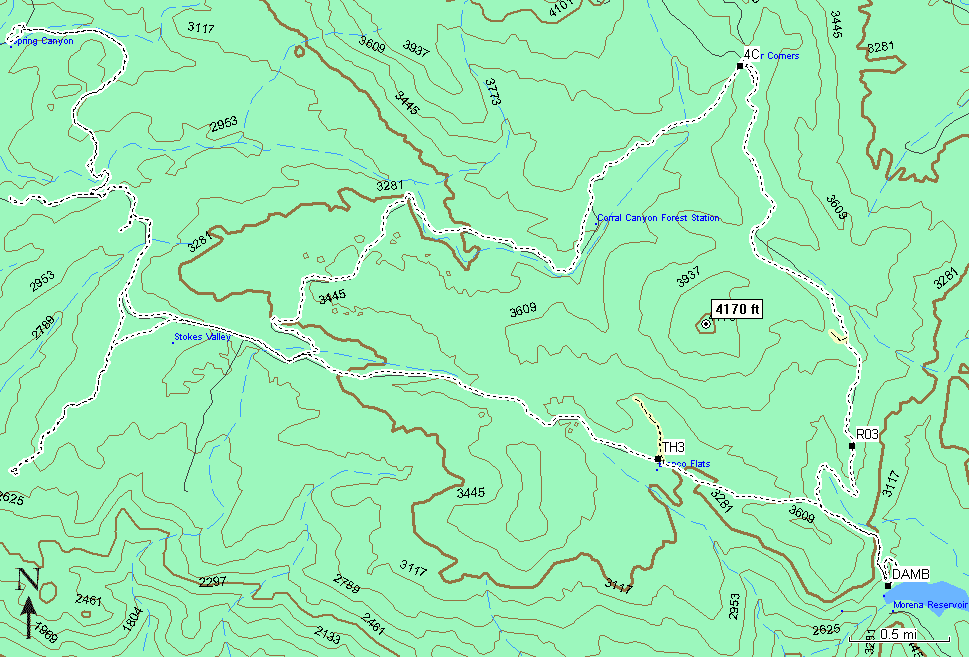 Map Legend / GPS Information

4C

Four Corners.

N32.72452 W116.55958

This is the Air-Down/Air-Up lot, a convenient place to disconnect the anti-sway bar, adjust tire pressure and remove hood locks (so that to be able to open the hood quickly if the engine caches fire), before hitting the dirt. Also this is a place to leak the wounds, reconnect everything that was disconnected and kick the tires before going home. Folks who tow their off-road quins can leave their rigs and trailers here
R03
There are plenty of places to stretch your Jeep legs.

R03

N32.69703 W116.54997

is one of them. Everybody likes those Jeep pictures that show wonders of articulation...
Although Corral Canyon is mostly the area for ATVs and dirt bikes, there are a couple of very interesting 4x4 trails. The beginnings of these trails are tinted yellow on the map. Specifically,

TH3

N32.69607 W116.56659

is the beginning of one of those trails that offer light opportunity of body damage and a lot of technical challenges. I started running the trail, but after several obstacles I realized that it is a good idea to come back there with a group, since there was Sa good chance for a stock-height Jeep to high-center and get stuck - not a good thing when you are alone without self-recovery equipment.
DAMB

N32.68692 W116.54685

This is a very scenic place with a beautiful view of the Lake Morena near the Morena Dam.
Directions: take I-8 to Buckman Springs Road, drive south 3.6 miles, turn right onto Corral Canyon Road and drive 6.2 miles to the Four Corners Trailhead.