2000, 4th of July Morning Run
It was a beautiful, beautiful 4th of July morning. From meeting place in El Cajon we headed to the Anza Borrego, CA on two Jeeps. The destination number one was the Calcite Mine trail, a mysterious trail no human being ever run before. Just kidding :-) Calcite Mine is a top-secret location were calcite crystals have been excavated for the special defense department needs. Here is the map of the Calcite Mine Trail: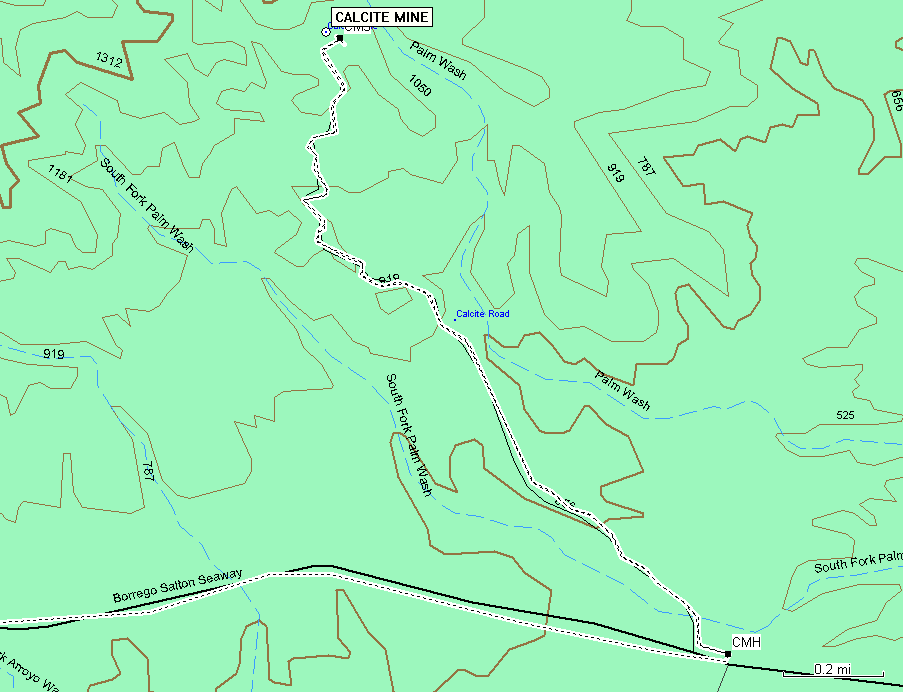 The trail starts on the Northern side of the Borrego Salton Seaway at the CMH waypoint N33.28124 W116.09637. There is a little lot that can accommodate up to five Jeeps. This is a convenient place to disconnect the anti-sway bar. Airing down is not really needed for the most part of the year. The trail is a very easy run, all you have to do is watch out so you don't start rolling down one of the washes. The trail is not boring; three are plenty of places for your Jeep to show off the wonders of articulation. The coordinates of the trail end are N33.29905 W116.10978 (CM3).
After completing the Calcite Mine Trail we visited the Font's Point (F03) N33.25782 W116.23330. If you are around the area, stop buy this place for sure. I will not tell you what it is all about, but you will not be disappointed. The trail that leads to the Font's Point starts on the Southern side of the Borrego Salton Seaway at N33.30346 W116.23894. The trail itself goes at the bottom of a dry lake and is a very fun place to drive. No 4x4 required.
The last adventure on our 4th of July Morning Run was the Coyote Creek Trail. This is a famous destination along the Southern California off-road enthusiasts and desert explorers. Where else you can find a river water crossing in a Southern Californian desert in July? The trail Starts at (003) N33.32768 W116.36757. Unfortunately for us, on 07/04/2000 the gate at (CCG) N33.36882 W116.42128 was closed to protect wild life. Apparently, a mountain goat leaves there. He needs a little brake from mankind.
Here is the large map of the trails completed buy our group on this run: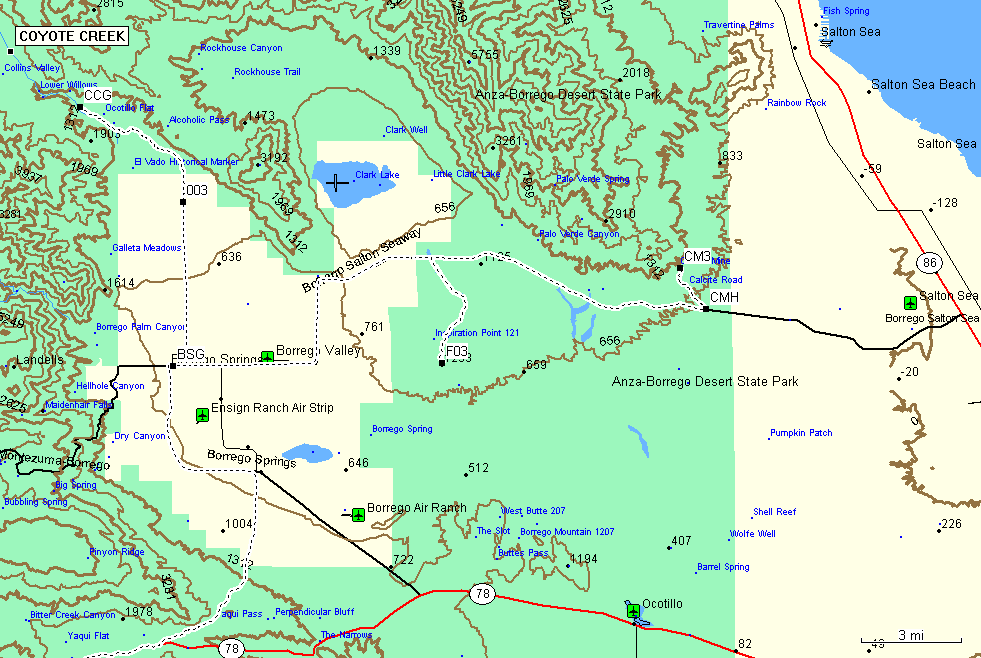 Running around the desert can drain your fuel resources. The Borrego Springs Gas Station (BSG) located at N33.25651 W116.37275.
I would like to thank William for the wonderful job of leading this run!
Stay tuned for pictures.