January 07, 2001 Los Coyotes Run.
This was my first wheeling day out with all the new toys on my Little Jeep, that got transformed into the Gigantic Jeep: a high pinion, high clearance Ford 9" rear axle with large drum brakes by Currie, 4" Skyjacker Doubleflex suspension, a body lift, extended motor mounts, JB Conversions slip yoke eliminator. This was also the first day of actual work for the Galaxy DX 959 CB radio and Wilson 4" flabroglass antenna (it lost the plastic tip in the fight with trees and bushes), and off course the new Ox Trax D30 front locker.
---
Here is Willim's review of the flight:
Well, about 14 or more folks arrived at the Gas Station - way more than was anticipated. Right of we had a problem with the police when one Jeeper parked in "fire lane" next to a gas station.. The cop didn't write a ticket, so I guess we can all it all "ok". The plan was to meet at the camp ground but at the entrance or near there abouts, the dust clouded the group and 1/2 of us ended up at Left Turn Hill while the other's were at the campground. The following wait had Andrew, James and Sergey breaking off on thier own... The next causilty was Desert Fox, who had problems with he steering bushing and drag link. It takes a big man to drive all the way up and then be able to say "not today" rather than risk damage.. I'm hoping you'll be out with us again Fred! I like the new lift, I"m looking forward to seeing it in action. We also had someone show up late to the gas station and couldn't find us. Vance, I owe you one, that's a long drive for no wheeling! At this point we are down to about 8 Jeeps. Jeff Weston (TJ), Mr. Weston (YJ on coils), Chris (YJ) and his friend Dan (YJ on coils), Scott Hill (TJ), Scott (TJ), Roy (Cherokee), Art Stephens (TJ), and my self. We went down dangerous road where I clipped my gas can holder on my Garvin industries rack on a tree. It actually stopped forwarded movenment, and in backing up I tweeked my soft top. We stopped at Manzanita Loop for lunch. We planed to get up to Tobogan, but due to the large crowd and some of the difficult lines to get up hills (a strap once or twice and my posing with 3 feet of air under my front left) slowed us to the point where I made a somewhat not so happy to make descion - to turn back. It was late and the trails were pretty challenging for some the vehicles. Nothing they couldn't handle, but a night run is a whole different ball of wax.. We did have a pretty good time, despite a late start, and the mix up at the trail head. Everyone kept good spirits and I think we all had a pretty good time. No real carnage to speak of, but a lot of real interesting lines and some pretty decent Jeeping. Lesson Learned, split in to two groups, and stick to the meeting places. I'm a little bummed the day didn't turn out as planned, but heh, the worst day Jeeping is better than the best day at work. :rolleyes: Thanks for everyone who arrived and played!
---
When the Rough Riders determined to brake off at the Left Turn Hill, I didn't know who to stay with, I decided to go with them, because I felt like James and Andrew would do better job babysitting me, had I broken something, where William would be busy organizing the crowd. We did the Jeep Squeeze, Dangerous road both ways, Ladybug Lane, Squeeze Rock, Greek Road, Hotdog Hill, lower section of Manzanita Loop, and the Bagbys rock.

Run Map:
New waypoint: ELH N33 20.077 W116 33.150 El Hill
This was a pretty darn exciting to start learning how to drive a lifted Jeep. I did the Left Turn hill several times, with anti-sway bar connected, and disconnected. I discovered, that disconnected Jeep feels much more stable.
We had a chance to flex my new suspension, it flexes pretty darn well, if you ask me: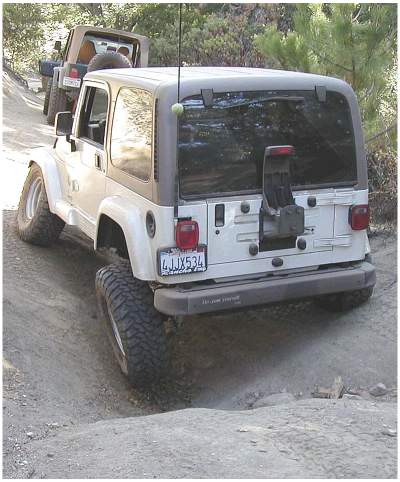 Thanks to James Hasler for the pictures. The next one shows how my Jeep looks through the alien eyes: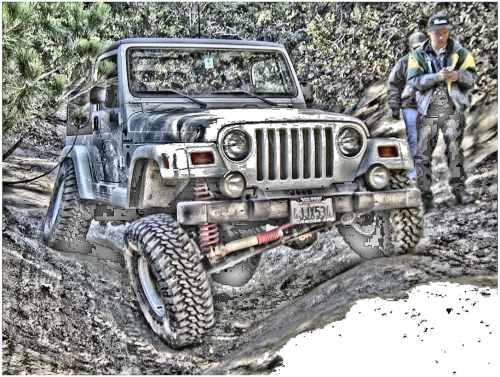 One of the very exciting parts of the venture was to test the new Ox Trax locker in action. Here is a little review:
---
Today I took my front Dana 30 Ox Trax locker equipped Jeep off-roading for the first time since the upgrade. This was a beginners' run at Los Coyotes Indian Reservation lead by William. At the Left Turn hill I decided to leave the group, and join Andrew_TJ and James Hasler on a venture that covered much more wheeling, than could be accomplished in a large group. We covered Quiet Road, Jeep Squeeze, Dangerous road both ways, Ladybug Lane, Squeeze Rock, Greek Road, Hotdog Hill, lower section of Manzanita Loop, and the Bagbys rock.
The first not so great experience with the locker, or with the shifter specifically, to be precise, for me occurred when I had to switch my Automatic Transmission to the first gear. My finger got caught between the transmission and the locker shifters. Ouch!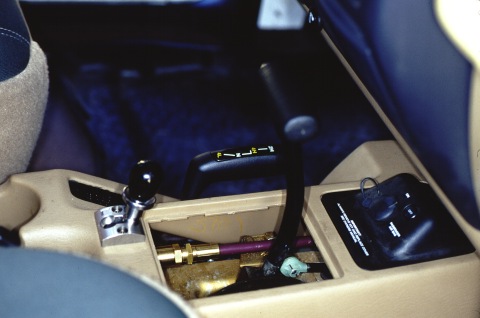 By the time I stopped blowing air on my finger, Andrew had already cleared the obstacle, and here it the moment we all have been waiting for. I am engaging everything I could engage (except myself), and starting crawling up the Left Turn Hill. To my surprise the Jeep drove itself up like this was not some kind of dry dusty obstacle with huge ruts, but an old folks home driveway. I was so excited, that I stopped at the top of the hill, squeezed the PTT button on my CB mice, and delivered a 30-minute non-stop speech about how wonderful the Ox locker was. I said that I was very happy; I thanked my grandmother and Academy. Half of the Los Coyotes visitors turned their CB-radios off for the rest of the day, subsequent to my speech.
After going down the Hot Dog hill I made an unpleasant discovery. Despite a 4-inch suspension lift (full blown Skyjacker Double flex), I was still hitting the oversized Ox differential cover with the track bar. Not good. Everyone out there who is ready to shell out for the new locker, hold your horses. At least wait until Ox Trax people start shipping the new modified cover (unless of course you have another way to prevent the hits).
Five times today I got stuck. Where before, I would back down a little, and try a different line, or use more momentum, with a front locker equipped Jeep I got a luxury of flipping a switch and driving over stuff without backing down or flooring the skinny pedal. Three of these five stucks, it was that simple – engage the locker and drive away. This is where I discovered another ugly side of the shifter placement. By the time you are stuck, you are most likely in first gear (with automatic). Well, since the locker shifter is right under the transmission shifter in this case, it is not very convenient to play with it [locker shifter]. And you do need to play with it, since about 75% of the time the locker does not want to engage. You have to give it a little bit of the differential action for the gears to mesh. This is also ugly, for the moment where you don't want to dig deeper ruts with your tires, going through the locker engaging procedure. Although if you are smart enough to engage a locker when you know you would need it, this will not be a problem at all. One time I got stuck with the Jeep pointing almost straight up. Engaging the locker didn't do a thing. Another time (at one rough spot going-up the Dangerous road), I got stuck pretty well, so I had to back up and try a different line even with the locker.
The locker requires some differential action for the teeth to mesh, but not too much, so they are not pressed against each other so hard, the thing can't move. Practically it looks like this: You try to flip the lever, but it doesn't let you, something is holding. What you do is start rotating the wheels slowly, and also give it a little bit of steering action. A little bit of back and forth play, and the shifter slides in the locket position like on butter.
I specifically did not air down the tires so we could give the locker a good work out. There have been many posts about MT/R tires sucking badly above 10 PSI. They are not really that bad, but keeping my 35s and the street pressure (23 PSI), made things interesting.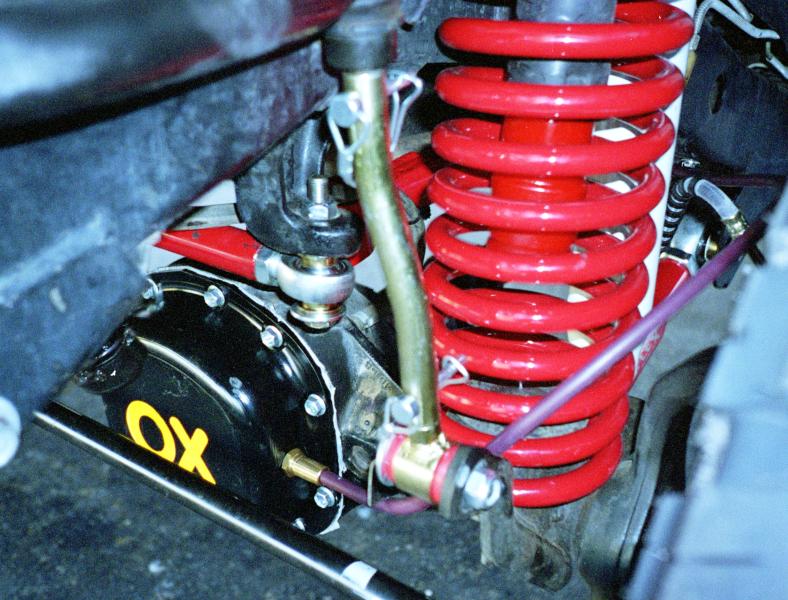 The bright yellow letters "OX" on the cover definitely make a bold statement, and leave no questions about owner's substantiation. If you are looking for a locker chicks dig the most, "OX" is way ahead of the competition.
Let me make a little summary about Ox Locker for you.
Pros: Extremely sturdy and very well made; No compressor required; Comes with a new cover that is so brawny you don't need a diff protector; Acts like a spool in engaged position (no play), fully open diff when off.
Cons: Track bar hits the differential cover (hopefully this issue will be fixed next month), Often requires a little play to engage so the gears can mesh, recommended location for the shifter is not the greatest, not many applications available.
Verdict: A kick ass locker. If there is one for your axle, get one as son as Ox Trax starts delivering the modified cover with slop at the top.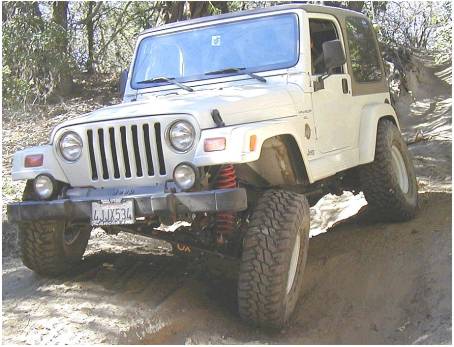 ---