Corral Canyon
Saturday February 10, 2001

We met with Rough Riders on the Fry's parking lot at 8 AM, and then drove to the Corral Canyon.
Directions: take I-8 to Buckman Springs Road, drive south 3.6 miles, turn right onto Corral Canyon Road and drive 6.2 miles to the Four Corners Trailhead.
It was supposed to be muddy. Well we did not see A LOT OF MUD (just some of it), but the rocks were very slick, especially with some dirt thrown on them. I aired my 35" MT/Rs down to 15 PSI (8 PSI would have been better, but I had to drive 30 miles to Alpine, after we done, to air back up, since I haven't gotten myself a CO2 system yet).
Andrew aired down his SSR's a little. James did not air down his bias ply Swamper TSL's - he had to be dragged over a couple of obstacles. General Tim aired down his Firestone Wilderness AT tires in the midway.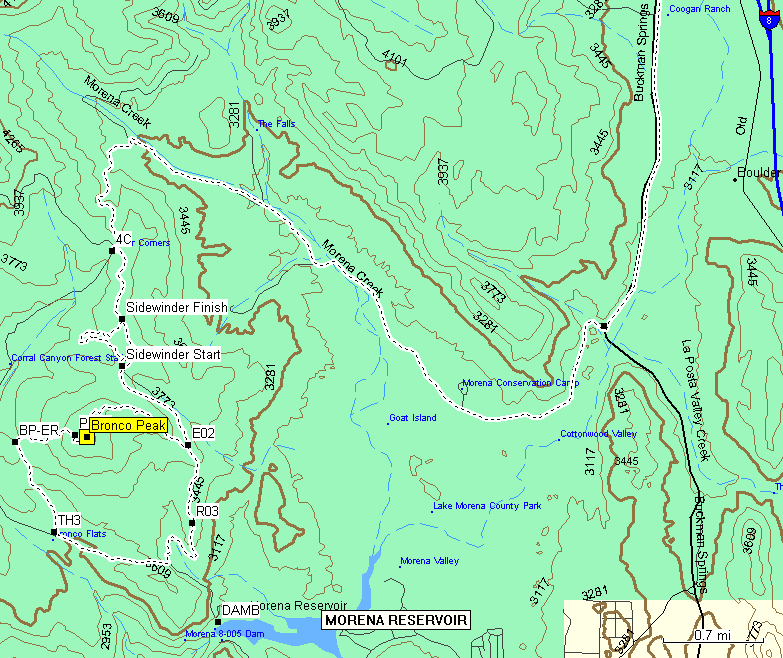 GPS Waypoints

BCKM 1

N32 43.017 W116 30.024

4C

N32 43.471 W116 33.575

TH3

N32 41.764 W116 33.995

BP-ER

N32 42.309 W116 34.271

Pull 2

N32 42.351 W116 33.839

Bronco Peak

N32 42.340 W116 33.755

E02

N32 42.291 W116 33.028

Sidewinder Start

N32 42.770 W116 33.502

Sidewinder Finish

N32 43.057 W116 33.503

DAMB

N32 41.215 W116 32.811
Bronco Peak Trail
Bronco Peak Trail is the most difficult road the Corral Canyon has to offer to jeepers and 4x4 enthusiasts. The trail starts at the TH3 waypoint and ends at the E02 waypoint. BP-ER waypoint is where another entrance to the trail is. Also, near that waypoint there is a long rocky uphill that gets very slick when wet. I pulled two Jeeps there today. Another place where I pulled a Jeep was the Pull 2 waypoint, only half of the group made it under its own power there.
The highlights of the trail for my Jeep today were:
Catching some serious air with front left tire (It is always front left tire who wants to catch air :-)
Hitting the left front control arm, and the control arm bracket (Skyjackjer held up to the abuse fine)
Hitting the front OX differential cover on a rock (No problems)
My Jeep got a new AKA (Also Known As) - Tractor ;-)))
Andrew was leading this this run with his four angry hamsters under the hood. He didn't get stuck once. James and Tim got stuck a couple of times each.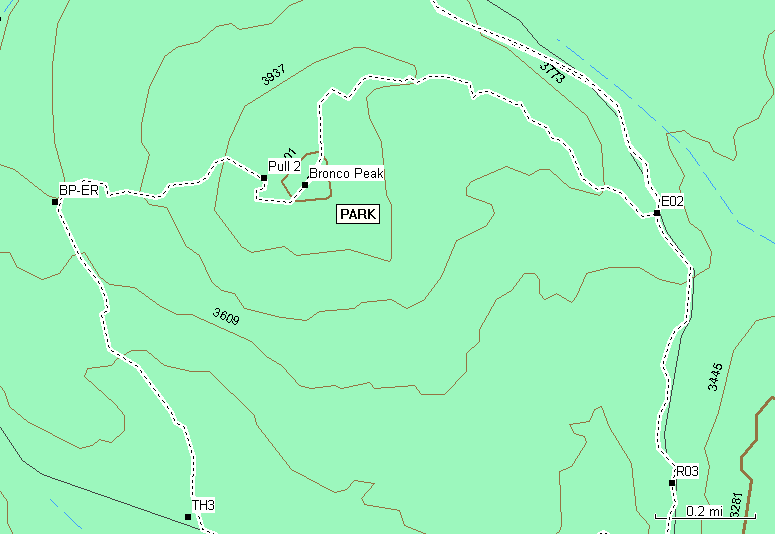 Sidewinder
Sidewinder trail is not hard and only about a mile long. It is a very interesting trail though. Lot's of lava rocks that would put your Jeep in some interesting situations. This trail also offers very nice picture taking opportunities.
Be careful letting the incoming traffic pass. I backed up to the bushes to do just that, and cracked the passenger side rear fender flare. :-(